How To Make Summer Salads Last All Day
Summer salads that stay crisp and fresh for hours
There's a reason potato salad and coleslaw are beloved summer salads, but there are some new players on the scene.
While those two mayo-laced sides are undoubtedly classics, they simply don't fare well on the picnic table, where they wilt under the hot sun. This summer, pack raw vegetable salads, sturdy grains and legumes into your cooler instead: Slicked with no-need-to-chill vinaigrettes, they hold up remarkably well as casual, all-day summer parties slide on into evening. Read on for our tips on prepping and storing these hearty all-purpose summer salad ingredients.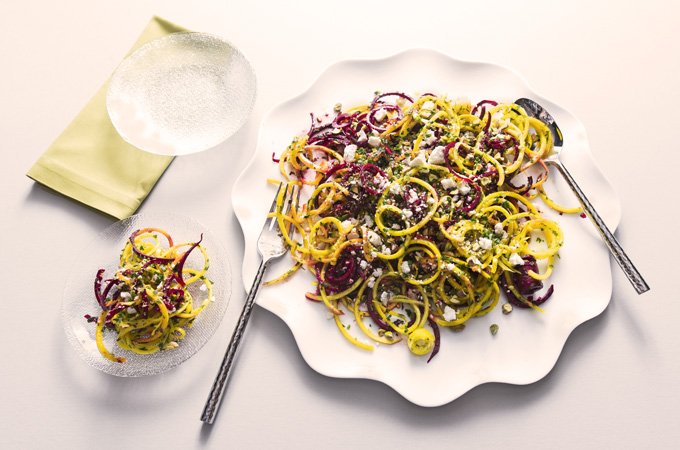 Spiralized vegetables: You didn't know you needed a spiralizer in your kitchen, but you do. This ingenious gadget revolutionizes summer salads. The gadget quickly transforms sturdy veg, such as beets, sweet potatoes and carrots, into twirly edible ribbons. Mix and match vegetables to your liking, then marinate the strands in a light vinaigrette for at least half an hour before serving: They'll soak up the flavor but will remain crisp for hours. For an easy home-to-picnic transition, pack your salad into lidded bowls.
Ancient grains: As the rising popularity of gluten-free foods has led eaters to previously little-known, gluten-free grains, such as quinoa and amaranth, other fantastically flavor-packed (gluten-containing) global grains have been rediscovered along the way—think rye berries, whole oats and wheat berries, which are featured in this fresh salad. Besides being healthy and tasty, these grains are incredibly tough: Simmered until tender and then tossed in vinaigrette, they'll maintain their buoyant texture when stored in an airtight snap-lid container.
Legumes: As a child, you probably didn't have much use for Mom's lentil salad, but we assure you that it's time to revise your views. During the summer, lentils and their close cousins, beans, are your best friends—but don't go grabbing your can opener just yet. Instead, choose dried legumes: Soaked and then cooked, they'll take in all the bright flavors of a vinaigrette while maintaining their shape and bite. To cut down on prep time, simply soak your favorite type of lentils or beans in plenty of water overnight, then simmer until tender, cool and toss into veggie-packed salads, like this one featuring leafy kale and sweet butternut squash. Pack into airtight containers, store in the fridge and enjoy for days—or slip them into your cooler for a beach-ready lunch.
Crate and Barrel provided the products featured here and sponsored this post.