New Ideas For The Classic S'more
Give the campfire classic a makeover with three fresh, new takes
It's clear why s'mores perennially top sweets lovers' lists of favorite summer desserts: The simple but ridiculously satisfying combination of milk chocolate, marshmallow and graham cracker provides crunch, gooeyness and creamy richness, all in one finger-licking bite.
The classic combo is killer, of course, but there's always room for creativity. So for your all-day party this season, try riffing on the s'more's essential ingredients while still hitting all the pleasure points of the original. And check out all the summer necessities to get you s'moring in no time.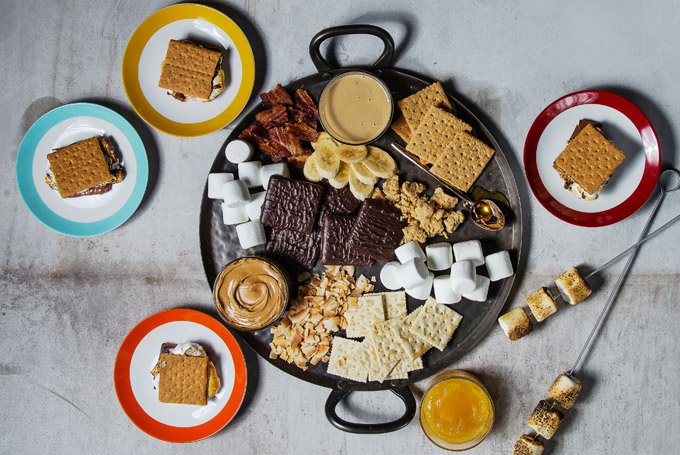 Make it Mediterranean. This s'more is truly transportive. Start with a base of chocolate grahams. Spread the base cracker with nutty, of-the-moment tahini, then drizzle it with honey and crumble a bit of halvah, that delicious Middle Eastern sesame fudge, over top. Pop on a square of extra-dark chocolate, add your toasted marshmallow, top with the other graham and pretend you're sitting next to a beach bonfire overlooking the Mediterranean's crystal blue waters.
Make it like the King. Who doesn't love a sweet-and-salty pairing—especially when it involves bacon? For a treat even Elvis would approve of, start with a cinnamon graham and spread it with plenty of natural peanut butter. Sprinkle with crumbled crisped bacon, tile on a few slices of banana, add the melty marshmallow and (carefully) top the whole thing off with another graham. Any campfire latecomers will be headed for Heartbreak Hotel.
Make it lemon meringue pie. Lemon curd is one of the best ingredients to keep on hand—especially when it comes to summer desserts. Next time you s'more, ditch the chocolate altogether and spread the citrusy pudding over a crisp saltine. Sprinkle the curd with toasted shredded coconut, crown with a toasted marshmallow and top with the other cracker for a luscious tropical bite. Is that black sand between your toes?
Crate and Barrel provided the product featured here and sponsored this post.